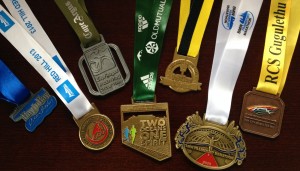 No, it's not about the medals why I am running.
But when I cross the finish line, I accept the medal with pleasure.
And I am very dissapointed, if there is no medal. Some races (in South Africa) stopped handing out medals, and for me personally this makes it less attractive to run such a race.
Because I want to see my medal collection grow and it reminds me of all the races I did.
The picture shows you the medals collected in 2013. From left to right:
Bay 2 Bay 30 km
Red Hill Marathon 42.2. km
Cape Argus Cylce Race (yes, on a bike) 110 km
Old Mutuals Two Oceans Marathon 56 km
Stuttgart-Lauf 21.1 km
Frankfurt Marathon 42.2 km
Gugulethu Race 10 km