My Two Oceans Journey
The Two Oceans Ultra Marathon got me into Ultra Marathon running. I am more than grateful for the moment I got hold of the Two Oceans brochure during a vacation in Cape Town in 2007. I never could have imagined how much this event would change my life…
Unfortunately the organization of TOM has lost sight of the running community and focuses too much on making money, I am not a big fan of TOM any more. My dedication goes towards the Comrades Ultra Marathon – the ultimate human race and the charity organization I support, the CHOC Cows.
#12: 2023 – 5h 52min
It was just a training run for Comrades 2023, and it was a very good one!
#12: 2020
Would have been the first Two Oceans of 58 km instead of 56 km – but then Corona came around and killed the race (Two Oceans Ultra Marathon NO-RACE race report 2020)
#11: 2019 – 5h 35 min
My first race wearing my blue number 🙂 (Two Oceans Ultra Marathon 2019 race report)
#10: 2018 – 5h 13 min
My "blue number" race! (Two Oceans Ultra Marathon 2018 race report)
#9: 2017 – 5 h 25 min
After my UTCT DNF in December 2016, I declared 2017 as my "rest-year" with only one marathon and the Two Oceans Ultra. I trained only the bare minimum and enjoyed a pressure-free OMTOM 🙂
(Two Oceans Ultra Marathon 2017 race report)
#8: 2016 – 4 h 55 min
I was very keen on getting another Sainsbury medal (sub 5h) this year. And I managed to get it 🙂
(Two Oceans Ultra Marathon 2016 race report)
#7: 2015 – 5 h 21 min
Year was dedicated to a sub 9 h at Comrades later this year, so I took it easier. A sub 5 h would have been nice, but I had massive problems with my digestive system. Still a great race and I took me to my ultimate goal of a Sub 9 h Comrades a couple of weeks later 🙂
(Two Oceans Ultra Marathon 2015 race report)
#6: 2014 – 5 h 13 min
Hopes for another sub 5 h finish, but suffering from an injury, I was happy I could participate at all (Two Oceans Ultra Marathon 2014 race report)
#5: 2013 – 5 h 50 min (running with blind athlete)
Another year as a pace setter, but this time for blind athlete Hein Wagner – and I only got notice of this opportunity 5 days before race day. And never ran with a blind person ever before…
#4: 2012 – 5 h 51 min (pace setter during the wettest race ever)
Celebrating my 42nd birthday on race day and give back to the running community by running as the official Two Oceans Sub 6 h pace setter (2012 Two Oceans Race Review and sub 6 h bronze medal chart)
#3: 2011 – 4 h 54 min
Aiming for a sub 5 h finish – and making it. What a fantastic experience.
#2: 2010 – 5 h 12 min
I'm becoming faster… Two Oceans also was a preparation for my very first Comrades later this year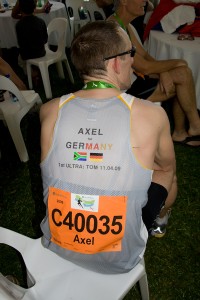 #1: 2009 – 5 h 23 min
My very first Ultra Marathon ever, very emotional, very inspiring, life changing