Registration
Thankfully the organisation learned from past mistakes and the registration process went quickly and without any issues. Of course it helped being part of the blue number club (10+ finishes) and getting my number at that dedicated counter for the first time (I joined the club last year).
The T-Shirts were a disappointment – like in most years. A terrible color I (I'd say: anyone) can't wear. They also had a special edition – very nice looking T-Shirts, but only for the first 4000 people picking up their number. I wasn't that lucky and therefore my T-Shirt will never see my skin. Would be great if they would improve their design and color selection in the future. But anyway, that's only a minor side notice.
Friendship run
As always my wife and I went to the International Friendship Run on Friday, a nice tradition and an opportunity to meet many of our friends from abroad. It was a very foggy day, making it the fastest IFR ever – no picture taking during the run 🙂
Race day
As usual my wife (running her 10th Two Oceans Half) and I got to the start on our Vespa scooter.
I entered the C seeding pen at around 5:30 am (70 min before start, which was scheduled for 6:40 am, another 10 min later than in the past, due to the massive half marathon starting ahead of us). And it began to rain slightly, stronger, slightly again. It wasn't too cold (approx 15°C). It showered for a while, then it stopped – just to return again 5 min before the start 🙂
It was the first time I wore a blue number.
I can still remember my very first race, where I stood in awe when I saw someone with a blue number. Now I am one of them. It's unbelievable how time goes by! If you are reading this as a novice, or with 2-4 races under your belt, let me tell you, you'll get there too. Just be persistent, stay healthy, and enjoy the running.
Race strategy
The strategy was easy to describe: Take it as a training run. No racing, no PB. 
During the build up I did nothing to improve my speed and only focused on building persistence (also see training structure below).
The day before race day the route got changed, due to fears of interruptions of the race in one area of the route.
This meant we did not run the beautiful path along Chapmans Peak and got diverted to Ou Kaapse Weg. This would have had a massive impact on my race strategy, if I'd pursued a PB, but in this case it did not affect me at all – apart from knowing that I might finish a bit later.
My plan was to finish somewhere in the 5h 25min range.
I started quite well, without being too fast. The first 20 km went by quickly, although we got drenched for a while due to some heavy rain along the coast in Muizenberg.
I actually don't mind rain, and prefer it over too much heat. It was obvious the rain clouds would disappear later. It was nothing compared to the torrential rain in 2012 – if you were there, you know exactly what I mean.
Ou Kaapse Weg vs. Chapmans Peak Drive
Just before getting to the half way point, we took the detour running across Ou Kaapse Weg instead of Chappies. 
I reached the half way point after 2h 40 min, a bit too slow for a 5:25 finish because the two hills are in the second half of the race, but who cares 😉
In my memories it wasn't so bad. How our memories can trick us 😉
It's definitely not as scenic as Chappies, but also has some nice views.
The uphill is a bit longer and partially steeper than the traditional route. On my way up I met Philip, a seasoned runner in his 60s, and we chatted our way up to the top. In hindsight it was a mistake, I should have taken some walk breaks, but we both pulled ourselves up the hill 🙂
What's much more difficult is the downhill section of Ou Kaapse. MUCH longer and steeper than Chappies and therefore much more dangerous to destroy your legs for the remainder of the race.
I hereby declare Ou Kaapse as more difficult to run than Chappies 🙂
Through Constantia to Southern Cross
The weather got a bit better, no more rain but also not too much sun – very good for me.
We made our way though the lovely suburb of Constantia with lots of supporters until we reached Southern Cross, about 10 km to go. A 2.5 km uphill section, which is a bit shorter than the traditional Constantia Nek, climbing about 110 m of elevation. That was the moment when I got tired and started walking for quite some time. Actually, I would have walked up Constantia Nek as well, but somehow this felt different. I knew that in 2015 I ran that section better than this year.
The real bummer came at the top of Southern Cross. Instead of turning right, the organisers added a loop. UPHILL! I was really annoyed, especially since I had no clue if that loop would be 100m oder 1000m. Luckily it was only 200m, but it was definitely not pleasant…
On my way the incredible coincidence happened. Again.
A coincidence which happens at every Oceans and Comrades for many years now. I met my friend Marco, one of the two founders of the
Two Rivers Marathon
. Mentally he was in a bad place and so I took my chance to slow down and support him. He was even doubting he'd finish in less than 6 hours. That's the danger of our mind playing games with us.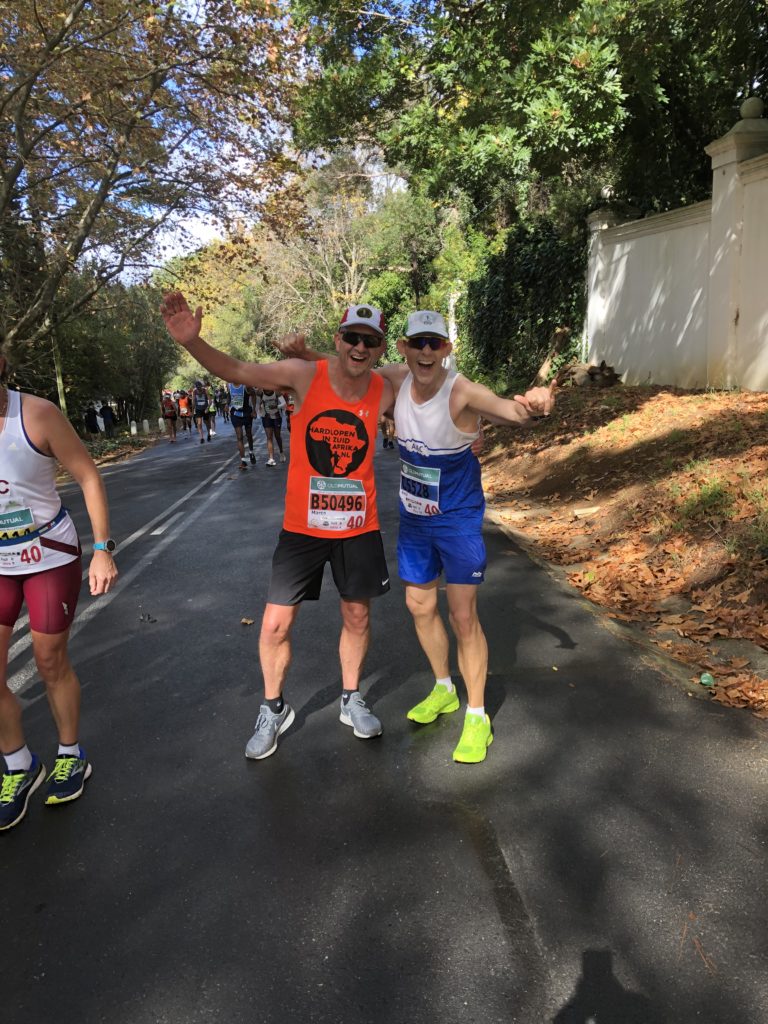 We ran together for a while and I talked him out of his negative self-talk until I accelerated a bit. A tiny bit to be honest. But before that, I urged him to promise me he'd finish in less than 6 hours (which he eventually did!).
The final kms through Kirstenbosch, along the University, etc. were business as usual. With the exception of a guy I caught up with and who then said "Hey Axel, you don't know me, but my name is Caio Mário Lopes and I am from Brazil. For the last 3 years I am reading your blog and it helped me a lot to prepare for this race." Congrats Caio for your Two Oceans and thanks for speaking to me. 
On this note also thanks to all of the other runners who know me from this blog and spoke to me during the race. Please comment below if you are one of them. It makes writing my stories much more motivating when I know I'm helping you guys.
And then I had my 11th Two Oceans in the bag. My slowest race (apart from the two races where I was pacing the sub 6 h bus and the blind adventurer Hein Wagner). 
I accept the fact that I am slow right now since I am not putting in the speed work I need to do. But I enjoy and love the runs 🙂
Congratulations
Congratulations to my wife Silke for finishing her 10th consecutive Two Oceans Half Marathon and for joining the blue number club. 
Congrats as well to all my club mates, especially to Kerry-Ann for a "long training run" in 4h 03min, preparing for a stellar return at Comrades after a long break due to injury and giving birth to a child, to Jana for an amazing 4h 36min PB, to all my Dutch running friends who really became friends throughout all those years, and to everyone who lined up for this race.
No matter how fast you ran, putting in the work to prepare, lining up at the start and running it is something 99% of the population would never achieve.
Be proud of yourself!
If you like my blog posts, please help me raise funds for children with cancer
Training structure
After my failed attempt to improve my personal marathon best at Cologne Marathon in October 2018, I took 3 weeks off to recover from my severe cold I suffered from right after the race. It felt like I had to rebuild my endurance (almost) from scratch. The first few runs in December were terrible with a HR way too high.
Luckily, Cologne was my qualifier for Two Oceans and Comrades 2019 and I did not have to run another marathon before either of those races. This gave me the peace of mind and time to build up my endurance slowly.
Usually I would have done multiple 30km training runs already in December and start January with a 30 km race. This time my first 30km run only happened on 19th of Jan. January was also very busy business-wise with a 5 day trip to Shanghai and a trip to Germany, making it hard to get in long runs.
But slowly I felt the endurance coming and my final long runs before Oceans went really well. I did not have the pace for sure, but endurance-wise I was in a good space. And this paid off.
From Jan 1st until race day I had completed 918 km of running, including 1x ultra distance (50 km) and one marathon (42.3 km) as training runs. 
With the result and especially how I felt right after the race and the day after, the training was spot on.
If you want to see all of my training runs, follow me on Strava: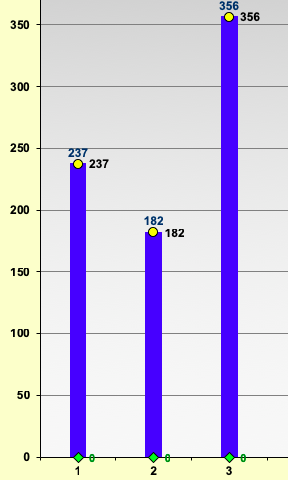 Running Oceans 7 weeks before Comrades
The fact that Easter weekend was very late in 2019 makes it very difficult to find the right balance between Two Oceans and Comrades (June 9th of 2019).
Or rather not… Either you race Oceans or you race Comrades, but you can't do both.
Since my pace is not that great right now anyhow, Oceans became a training run for Comrades enabling me to continue with the training right after Oceans. I'll do one easy week with 2 runs during the week and a 20km run on Saturday (1 week after Oceans).
Running data