"If I don't finish in less than 9 hours, it won't be because I am not fit enough, but because I am mentally holding myself back from running fast enough" were my words to my wife at dinner the evening before the race. I kept them in my mind all the way from Durban to Pietermaritzburg on race day.
I'll write another blog post describing my preparation. In one sentence: I had a fantastic running year in 2015 so far, almost 1300 km, lots of long runs, and physically I was 100% prepared to finish in about 8h 45 min or so. The only injury I suffered from was a massive shoulder bruise from a fall I had 3 weeks before the race during my last 40 km run.
The day before the race I joined my wife for a morning run along Durban promenade. I just loosened my legs for less than 3 km and watched the spectacular crowd of fellow runners. While I sat at the promenade, waiting for my wife who did a longer run, a tourist asked me "which race is happening here". That's how it looked like 🙂
My 2015 Bill Rowan-Medal Comrades 2015 Race
If you are curious about my mental race strategy and my nutrition, you can find it at the bottom of this article.
I was in my seeding batch "C" at about 4:55 am and could make it to the first half of the batch. Starting in the front is beneficial for a good finish, since the runners from the back need 6-8 minutes until they cross the line. No surprise with more than 16,000 people starting.
The last 10 minutes before the start are very emotional every time. I have experienced it four times already, and still it makes my eyes sweat. It is impressive if some 16,000 people sing the national anthem, followed by Shosholoza and then you hear Chariots of Fire. I got goose bumps from writing this. 🙂
Listen to Shosholoza in this video:
The moment you hear Chariots, you know you are only seconds away from the start. (still goose bumps while writing).
From the moment the start gun went off it took me less than 1 minute to cross the start line, and from then on I could already start running. It was maybe 16°C warm. Not too warm, not too cold. I was amazed by the huge number of supporters on the road probably 5 deep, standing there at 5.30 am on a Sunday morning. The temperature went up into the 30s later that day, but I was lucky and it never really affected me. Unlike two spectator cars that exploded at a spectator parking spot:
The first 40 km are uphill (1600 m up, 1000 m downhill in total) and the following picture is taken by the AAC club captain Craig who unfortunately was not able to run – so he supported us along the route. The picture is taken a few km into the race, where we run up a national road.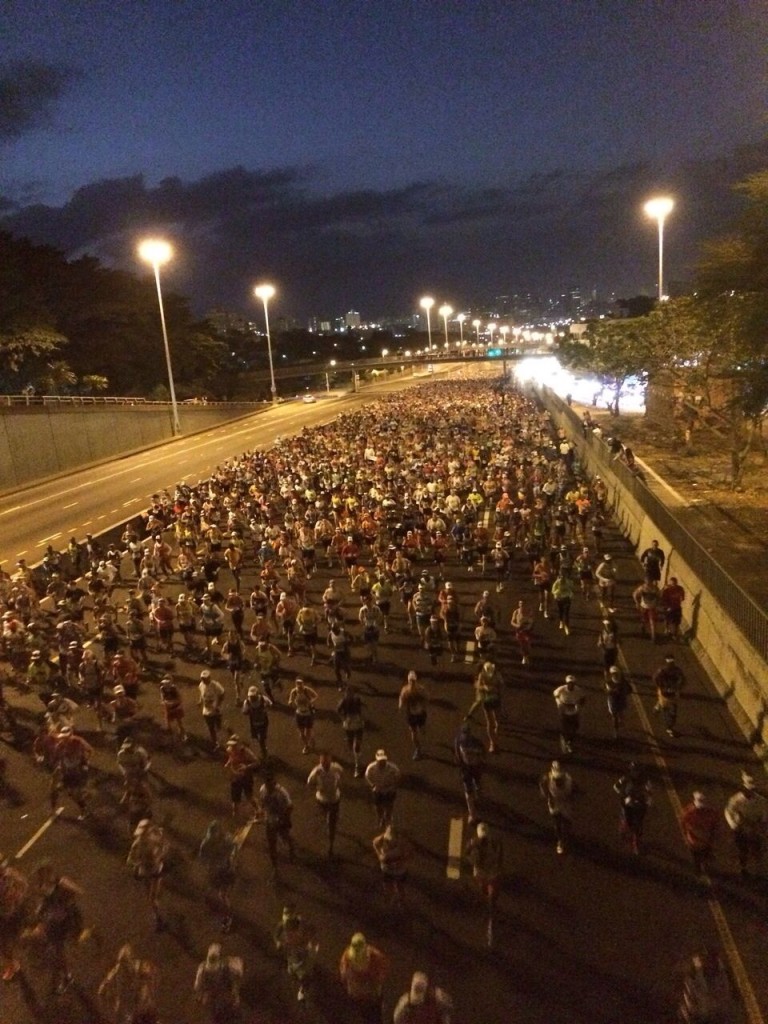 I was grateful for the many hours I spend in training running on undulated and hilly roads. Even during the tapering phase over the last 3 weeks I kept hills in my training – and it paid off. I was able to run a decent pace. It did not feel as bad as during my first up run in 2011.
But there were many runners passing me, running faster. It did not bother me at all. I knew my pace of 6:05 – 6:30 was good for the uphill sections. Whenever it got flat or even a little bit downhill, I was able to run 5:10 – 5:30 min/km.
Over the course of the first 20 km I was almost 100% spot on with my pace chart, after 30 km I was even 2 minutes ahead. This was a great feeling, knowing that the longest part of the uphills were almost done.
After maybe km 20 the sub 9 hour pace setter overtook me. It did not bother me. For at least two reasons:
It happens the pace setter is either running too fast or too slow
I knew my strategy would take me to the finish in time.
My wife waited for me as usual at two stops, where she resupplied me with food and drink after some 32 km and 54 km. What I highly appreciated was the coconut water she gave to me. I tried coconut water for the first time during a race when I ran the Three Peaks Challenge. It is natural energy drink and first class electrolyte replenishment source. Until that point I only consumed water at all the water tables, no Coke or Energate (like Powerate) . Usually I took one water sachet, drank a third or half of it, and poured the rest over my head or my neck.
My wife told me, that she had seen one of our club mates, Shen, and that the 9 h bus was not far ahead of me. After this short meeting we split ways and I carried on.
After about 35 km I heard someone calling my name from behind.
There were my to running mates from Atlantic Athletic Club Terry and Shen. Terry is an excellent runner with three consecutive Sub 5 h Two Oceans finishes, and Shen a Sub 3 h Marathon runner. It was nice meeting them and we stayed together for a few km. Terry was also keen on a Bill Rowan Medal (that's what you get for a sub 9 h finish – Comrades awards different medals depending on your finish time). I wanted to run with them for a while, but when they opted for a short walk break I felt too strong to hold back. So I carried on.
After some 40 km the main uphill is done. But Comrades has always lots of small hills in his bag. No wonder if you see street signs all the time mentioning the "valley of 1000 hills".
When I approached the half way point I was extremely happy. I went through after 4 hours and 23 minutes, 4 minutes ahead of my schedule and still feeling extremely strong. Therefore I had 4 hours and 36 minutes for the second half. And I was very aware of the brutal Polly Shortts final 1.8 km hill just 8 km short of the finish. I wanted to have some time in the bank to walk up that part. So – all good, all in plan, all systems green.
My digestion worked well, I consumed food on a regular basis and in the meantime at every second water table or so I had water and some coke or energate. I did not drink too much of this sugar water, but enough to get some energy out of it. The occasionally offered potatoes with salt were always highly appreciated. I took 2-3 bites off a potato and that was good for me.
The time began were I took very short walking breaks every now and then. If you look at my pace chart you can see it. But it was only for maybe 200 m or so max. What a huge difference to my nightmare I experienced at Comrades a year ago.
I was looking forward to the second meeting point with my wife and as usually she sent me a text message telling me where I could find her. In the meantime it is easy finding her – she is almost always at the exact same spot every year. This time I took only half of the food prepared since I expected that eventually I might not be able to eat anything any more. I still felt great, but experience from other races told me so.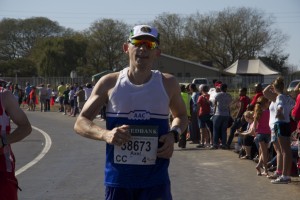 And off I went. Saying goodbye to my wife, with her supporting empowering words that I would achieve my goal. A great positive reinforcement.
With some 25 km to go I saw the sub 9 h bus ahead of me. That was a great feeling. Although I did not care too much due to the aforementioned reasons, it was a good sign. After a while I got very close and at a water station they all slowed down. And then the bus even stopped. I have no clue what this was all about, but it was a welcome opportunity to pass this massive group of runners. Otherwise it can be quite tricky to get around a bus, since they simply occupy the whole width of the road.
Now, being some 50 m ahead of the bus, I kept running my pace. I was not too far away so I did hear the instructions of the bus driver. He suggested a walk pace strategy for the upcoming hill and I did the same. Then he mentioned, that he would later on walk up Polly Shortts (at least that's what I believe he said) which was exactly my strategy.
When we were done with the hill I was pulling away from them. Great feeling again. I was running 5:05 – 5:15 min/km pace whenever the road was flat or downhill. I was happy and very confident of being able to get my Bill Rowan Medal for a sub 9 h finish.
With 17 km or so to go we reached the highest point of the race. Of course this does not mean it's all downhill from here, but there were several hills we were running down. Fast. It was also the time where I passed many other runners.
And then we got to Polly Shortts. First I conquered Little Pollies, a not so steep some 1.5 km long hill, followed by a long downhill I could run pretty fast, until the start of Polly Shortts was there. And I walked. All the way up to save all my energy. In the meantime I was some 8 minutes ahead of my plan. Knowing that I can walk uphill with a 8:00 – 9:30 min/km pace the 1.8 km section of Pollies might cost me 5 minutes, but I had the time.
I know especially from Two Oceans that you can destroy your race if you are exhausted and try to run up a steep hill. Because after the hill you are done. If you take it easy and lose some time on the hill, but you recover while you walk to the peak, you can get some time back by running strong after reaching the top.
That's been my strategy for Polly and it worked. I felt so great when I was on top and I started running at a decent pace again. I was passing even more runners.
With 3 km to go I decided to write a text message to my wife, to let her know that I'm on my way. It was a downhill section and I wrote a nice message, hit send and the battery of my phone died. I tried to restart it and this all happened while I was walking. I do not run and text – too dangerous. So I lost a few seconds here, but who cares.
The last 3 km to the finish in Pietermaritzburg are rather boring and not really spectacular, but it is getting better when you enter the area with the club tents and then the finish was there. I was looking for my wife, but I could not find her in the crowd.
Then I crossed the line. 8 hours 49 minutes and 4 seconds. I was over the moon. When I received the beautiful medal, which is a unique special edition for the 90th Comrades, it was an outstanding emotional experience.
I was tired, and after taking a bottle of energate I sat down for a few minutes. I was so happy. The 8h 49 means I was 51 minutes faster than at my first and only other up run and 37 minutes faster than at my fastest Comrades (down run 2011).
Our club had a club tent where I went and where my wife and I had agreed to meet eventually. The tent was fully equipped with lots of food and drinks. But I wanted to rest for a while first.
After maybe 20 minutes on the floor I started to recover, started eating a bit and then my wife also arrived. She had waited for me at the finish and missed me in the crowds.
I was so proud of my medal, which happened to be much larger than usually and very special due to the 90th edition of the race.
More and more of my club mates arrived at the tent and we were sharing our war stories.
Unfortunately not all of our runners made it to the finish running. Several of them were stopped at one of the several cut off points.
After some 3 hours in the tent It was getting cold and so my wife and I left the area.
The not so amusing part of the race started then, because Pietermaritzburg is not prepared for 20,000 or more people leaving the stadium at the same time. For 30 minutes our car was not moving from the parking area… But then we found our way and drove back.
I experienced it at my first down run as well, and it happened again. When you drive back from Pietermaritzburg to Durban and it takes you – due to the traffic even on the national road – more than 1 hour by car you happen to realize how far you ran during the day. With the parking chaos it took us even 2 hours this time, from the moment we got into the car until we arrived at the hotel.
At the Hilton Durban the staff again prepared lots of bags with ice cubes.
Unlike in the past I did not take an ice bath. I wanted to shower and get some food. So I took a shower and rubbed the ice on my legs. This was a nice alternative – having warm water from the shower running down your neck while you cool your legs with ice. Much better than sitting in an ice bath 🙂 But of course not as effective.
Anyway, I wanted to eat so we went to the hotel restaurant meeting many other runners.
A refreshing glass of beer, lots of vegetables and some curry plus two rounds of deserts were on the menu for me. If you know me, you almost never see me eating desert – so this was special 🙂
Mental vs. Physical and Race Strategy
Other than in the past, I focused on my mental strategy than on a very elaborate race strategy. I did not aim for a "Sub 9" but a "8:50". The psychological phenomenon called "priming" might otherwise misguide me towards 9 hours.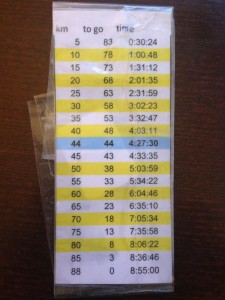 When I prepared my own pace band, I consciously made no pace adjustments to adapt to the elevation of the course. The first 40 km are almost always uphill, and I calculated the required pace of 6:05 min/km straight, from start to finish. This pace would take me to a 8h 55min finish.
The idea behind this: I assumed that running uphill all the time in the beginning might slow me as much down as the exhaustion that I might suffer from during the second half of the race where the all the major climbs are done.
And the strategy was spot on.
In my race pack I received this wonderful cap and they added a nice twist to it: On the inside of the shield they printed the elevation chart. Funny enough, during the second half I looked at it a few times to be prepared for the hills to come.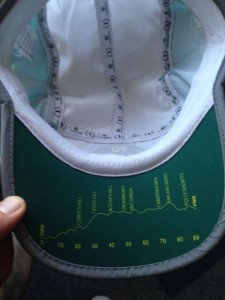 Running Mantra
The day before the race I ordered a medal hanger (SA Medal Hangers). Since those hangers are custom made, I had to come up with a personal slogan, and together with my wife we brainstormed. The outcome: "I run to break my limits".
This was perfect as my mantra for the race. I often recalled it during the race and it did help.
I'll post a picture of the medal hanger when it arrives at my home 🙂
My running strategy was to run as consistent as possible, walk as little as possible, to think as little as possible and especially to not listen to my body (unless the body signals something really severe of course). I wanted to run in a flow. And I did.
Mind & body, shut up
I know from many previous races that sooner or later the body is sending signals of exhaustion to the brain. The brain monitors it and eventually tells you "well, you might want to slow down". I consciously decided this time not to listen. This was crucial.
Especially during the last 25 km or so. That's the time when many other runners were walking, I kept going. It was tempting and if you see others walking you think "I might walk as well". This would have destroyed my time. Yes, I did do a few short walk breaks, but they were really very short. You can see it in my Garmin profile if you magnify the pace graph (Axel's Comrades 2015 running data).
Also different to the past was my reaction at every km-marker. At Comrades they do not display the "km done", they show you the "km to go". If you take that the wrong way, it can demoralize you.
During my previous four Comrades I often thought: "ok, 32 km done, only one Two Oceans (56 km) more to go". Then I might have thought "wow, 56 km completed = one Two Oceans is done, only 32 km more to go", or "hey, halfway is there".
But I did nothing of that kind. Whenever there was a km-marker, I did two things:
I looked at my watch to see the pace I did for the last km.
I calculated if it is time to send a text message to my wife to let her know where I am so she would be prepared at our two designated meeting spots
Apart from that I did nothing else than running and very little thinking.
Using my Fenix 3
A few weeks before the race I got a new running watch, the Garmin Fenix 3. One of the best features is the stride rate it shows you. When looking at my watch I had only eyes for my pace and the stride rate. Why the stride rate?
I knew, that if I can keep a stride rate between 160 and 170 steps per minute, I would be doing just fine. I was worried that when I get tired, the stride rate might go down, and this would result in making longer strides to keep the pace, which is even more exhausting. You can see all the running data here: Axel's Comrades 2015 running data
I always avoided looking at my heart rate. I thought that in case I might be feeling strong and in the flow, but the heart rate might be high, I would get in trouble – mentally. From the many years of running I felt I rather run in the flow than distract myself from this running style by overanalysing my race.
I'm very satisfied with the performance of the Fenix 3. After almost 9 hours of running and tracking my race, the battery still had 40% left. This watch is made for Ultra Runners!
Nutrition during the Comrades 2015 Ultra Marathon
Nutrition wise I already wrote about it on my blog posts regarding the Two Oceans 2015 preparation.
In the meantime I even fuel myself with home made date bars (instead of bought ones, recipes here) and Pizza leftover from the evening before the race as my main energy source.
The food provided at the water tables during the race was a welcome alternative and every now and then I ate some pieces of banana and salty potatoes.
I refilled my pockets with new food whenever I met my wife. At the second stop, some 30 km before the finish, I did not take too much with me.
The coconut water worked like magic and it is a set element of ultra running nutrition for me. I got a 330 ml pack every time I met my wife. I drank half of it over the course of the next km or so, and then I squeezed some water into the pack at the next water table. It is such a great and different taste to all the Coke and Energate and, as mentioned, a very natural source of electrolytes.
The following pictures show the production process of my date bar and date balls (I had two different recipes). If you are interested in the recipe, just get in touch.
Final words about my 2015 Comrades record run
The mental status I was running in, the focus on running in the flow instead of being too running computer data driven, the way how I prepared myself in training, with my changed nutrition and mentally very focused, made this the run of my life.
If you like what you are reading here, you can motivate me to post more of these posts and support my run as a cow at the 2019 Comrades Ultra Marathon. Every cent counts – no matter if you donate R50, R 250, or more. Please help me help Children with Cancer. THANK YOU:
Support my Charity Comrades Run 2019
It is the mind that decides what we can achieve. Not only in running…
As I did last year already, I ran for the charity organization "Pink Drive" and collected almost R18,000 this year. To all friends, family and clients I want to say a big thank you for supporting me and this great cause!
A big thank you to all the running mates and especially to my beloved wife Silke, who is the best supporter and wife one can dream of.