It was my very first trail race ever. It's one of the most iconic races in South Africa. Not a bad first trail race. Maybe like learning to scuba dive on the Maledives 🙂
I knew I was not trained enough to go for a really good time and rather take it as a race to enjoy, take pictures, post on Facebook (because if it's not on Facebook you haven't done it :), …
Pre race dinner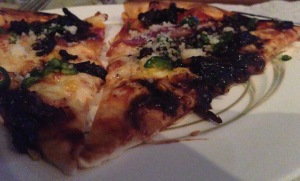 Pre race nutrition, a never ending story. About 2 years ago I changed from the classic pasta dinner to salad and pizza. It proved to work very good for me! Since there are usually a few pieces of pizza left, I packed those into small packs for the race.
The idea behind it: Pizza is tasty, salty and a nice variation to the usual sweet race nutrition.
Race Morning
The race starts in the city centre of Cape Town. At 5am in the morning.
Usually the only people you find there this early on a Saturday morning are young clubbers.
Therefore mostly drunk young people looked strange at us runners, gathering together at 4:30 am in the city centre. We met at the 'Green Market Square' which later gets packed with vendors of gifts, souvenirs, tribal stuff and tourists. But not at that time.
It was still dark when a group of both very experienced and novices (like me) walked from the terrace of the 'Inn on the Square Hotel' to the start. It's about 30 m above sea level, whereas peak one 'Devil's Peak' is 1,002 m above sea level.
The hotel operates as baggage storage, water table, time keeper office, etc. The first 'Three Peaks' started a few meters away from this place in Long Street in 1897 (here you can read a short description of the story behind the Three Peaks Challenge).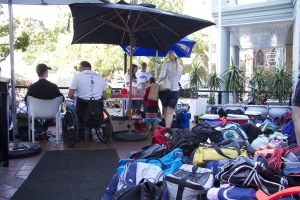 Some 150 people (117 finishers) got together for the group picture and off we went to the magic words "Ok, let's go".
Starting as one large group at every intersection the group splits until there were groups of 3 – 5 runners left. I followed a guy, Mark Lemmon, who finished already 10 times. I was certain that he knew the shortest route. I met him and his wife Anne a week before, when my wife and I walked along a section of the race (between Deer Park and Tafelberg Road). This couple are athletes par excellence, and just returned from the duathlon world championships in Switzerland.
I felt good and excited, holding myself back not to start too fast, because it was supposed to be a long day.
The weather looked very promising. The previous day was very windy, rather stormy, which could have made it dangerous in some sections towards the peaks. But we had no wind at all, no clouds which promised to be a wonderful spring day in beautiful Cape Town.
My hopes were to finish after 8 – 8.5 hours. For the 50 km and 3000 m elevation that means a split of 2.5 h for the first, 3.5 h for the second and 2.5 h for the third peak.
Peak 1 – Devil's Peak
After some 20 minutes I reached 'Deer Park' where we leave the tarred roads of the city and enter the trails. This first trail section is easy to run, wide, not technical with scattered larger stones but nothing dangerous.
Or let me say, that's what I thought…
Later I learned that a single stone can become dangerous, if you don't pay attention. More about this later.
It was a magic scenery, the sun began to rise and illuminated the wall of Table Mountain. I made a promise to myself not to race and rather enjoy this race, take pictures, and share them with friends during the race.
I reached the first checkpoint on Tafelberg Road after 39 minutes. From here it was a short run to the start of the trail up Devil's Peak. Learning from the preparation runs/hikes I took an 'aggressive hiking' stile of walking up. Which did not hold me back from taking some pictures, as you can see.
After a little bit more than 1 hour, while still going up Devil's Peak, the first runners made their decent. Club mate Simon 'Mountain Goat' Muller was in forth position. Great stuff! The first 4 male runners were running almost in one group.
I continued with my walk up to Devil's Peak, looking at my watch every now and then. I was slower than expected. I started to doubt if I could make the first lap to the peak and back to the start within 2h 30min. But I did not worry.
I started now to get some nutrition into my system, and the pizza was a great choice!
Enjoying the incredible views I eventually reached the top after 1h 27 min. I took a few pictures and used the iPhone App OVER to add a caption to the picture. To avoid an accident, I did this still on top of Devil's Peak. Therefore I invested some time into that.
After posting it on facebook, twitter and to my WhatsApp group of friends and my wife, I went back.
Can you imagine, only one short month ago I had not been up on Devil's Peak ever? My first run up with Simon Muller four weeks ago left me with very sore legs – after just one peak… Like with many things in life, you postpone doing it until something pushes you. When this happens you wonder, what made you waiting so long.
On the descent I increased the speed, and once I even slipped on the very sandy underground in one section. Like the two runners behind me.
Meeting the other runners makes this race so special: You see your comrades several times, which creates a different emotional bond. A positive one! There were at least 20 runners I met at least 4 times on the various descents and ascents.
After a while another runner came from behind, but he had no plans to pass me. It was Barry Washkansky, professional hiking guide and experienced Three Peaks runner. We chatted for quite some time, especially about the beauty of this city and its surroundings.
When the trail ended and merged with Tafelberg Road, I ran a bit faster and so we split. But we met later again :). I passed the check point and continued my descent through Deer Park, the city to the hotel at Green Market Square.
Video: Running from Peak One back to the Start (https://www.youtube.com/watch?v=wAgrClJR2SA)
On my way up, it took me 39 minutes from the start to the check point.
On my way down, it took me 29 minutes for the very same 5.8 km. I ran 5 min/km splits easily. Yes that's easy when running downhill all the time 😉
During this segment I ran into Lloyd and Christo, two other novices I met at the race briefing a few days earlier. The three of us met again several times during the race, making all of us laugh when all of a sudden either they or I came past the other.
And I felt absolutely great! During this first round I ate 3 small pizza pieces, one 'racefood' pack and the half of a 'High Five, Berry taste' sports bar.
I arrived at the start after 2 h 32 min, just 2 min slower than planned. All good!
I took my first small food pack from the backpack stored at the hotel, I refilled my hydration pack and off I went to the second peak up on Table Mountain.
I was in a good mood, looking forward to the next peak.
Little did I know what was about to come…
Read more about this in part two of my Three Peaks Challenge 2014 report…