Two years ago I met two strange guys from the Netherlands at the International Friendship Run of the Two Oceans Marathon. They were all over the place and were swopping T-Shirts they brought with them, donated by other Dutch runners, with us local runners. Little did I know that they would become great friends and I would be starting their marathon in 2017.
Ed and Marco are the names of these running enthusiasts. As they became addicted to the Two Oceans Marathon they had a brilliant idea: Why not establish a Two Rivers Marathon in the Netherlands as a preparation race for the Two Oceans. And so they did.
Based on countless hours of dedicated, hard work, they launched their own marathon in 2016. In 2017 I luckily could combine a business trip and taking part in their race. A few weeks before race day they asked me, if I would be willing to give the "startshoot" of the race. Well, I didn't hesitate a second 😉
The race takes place in Zaltbommel, almost right in the middle of the Netherlands. I was expecting cold, but not too cold weather – which was not what we encountered on race weekend: On Saturday there was lots of snow, and when they put up the route markers, they sometimes had to look very hard to find the markings on the pavement they made a few weeks earlier.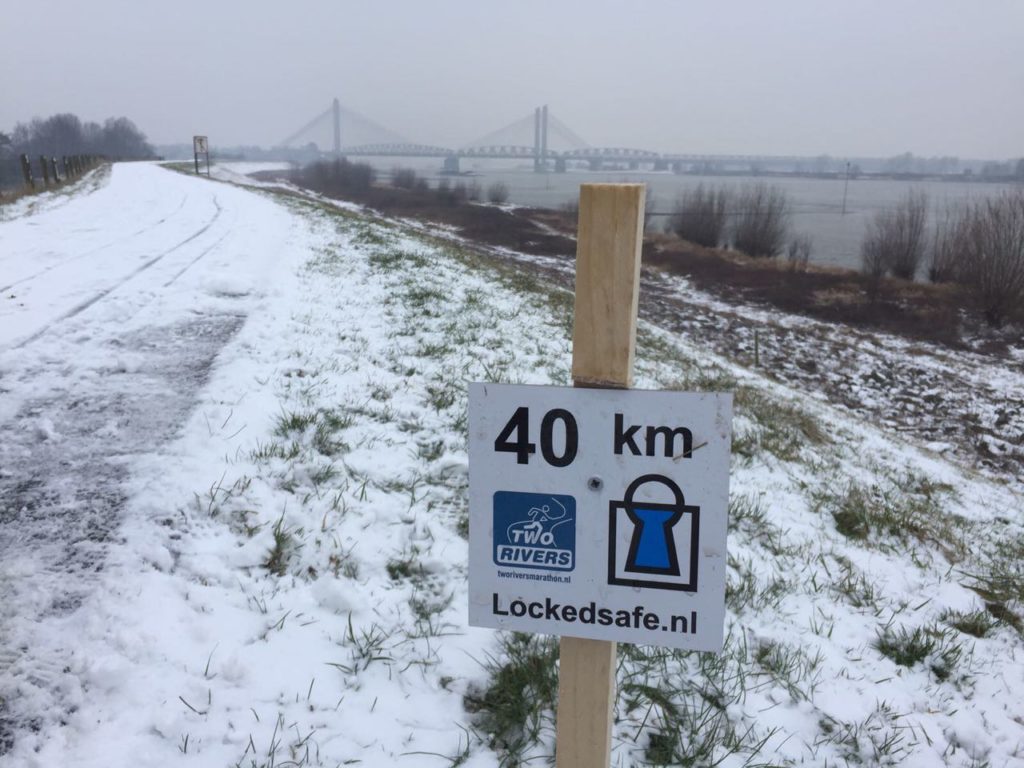 But hey, running is an outdoor sport 🙂
With the snow came the question of "what do I wear on race day?". Well, I remembered the time when I was young and went skiing in Austria and Italy. During those days you could always tell if Dutch people were on the slopes – because the moment the sun came out, they were skiing in T-Shirts. Recalling those memories I thought "Ok, these guys are hardcore. Representing South Africa and Germany at the same time, I can't show any weakness ;)" And so I opted for running shorts and long socks.
Race morning came, 3°C outside temperature, and when I approached the start area, I got quite a couple of comments regarding my shorts – since there were only maybe 3 other guys and one lady showing some skin 🙂
Now let's talk about the race.
As you can imaging, Holland is quite flat and so was this race. The biggest challenge were the cold weather, the very cold wind from about 18 – 32 km and the "mountains" you had to climb when we got up onto a dike 😉 In total we had an accumulated elevation gain of remarkable 37 m…
About 200 people showed up, some doing the run-bike marathon (teams were the team members combined running and cycling) and some doing a marathon relay (2x half marathon). I got introduced to the start gun and here we were waiting for the countdown.
It was quite emotional to listen to Shosholoza, the song which preceeds the start of the Two Oceans Ultra Marathon and the Comrades Ultra Marathon. And when it ended, it was time to fire the gun. What a priviledge to do so.
After starting the race I entered the field from behind and immediately a couple of other runners joined me to speak about Two Oceans – since Marco and Ed not only organized the Two Rivers Marathon, but also a trip to South Africa to participate in the most beautiful marathon in the world, the Two Oceans Ultra Marathon (and Comrades as well). We shared running experiences and I gave a couple of suggestions for first timers on how to approach Two Oceans.
The race is extremely well organized, well marked and whenever there was a tricky part of the route, you could see one or several marshalls guiding you the way.
Every 10 km they had a water table, at the half marathon point even some bananas and other fruits. Great vibes along the route and always a nice chat with fellow runners.
Since I had just recovered from my ankle injury from Ultra Trail Cape Town two months ago, I was happy being able to run a marathon at all. I did not pay attention to the pace and time, just enjoyed running and having a good time.
Please enjoy a couple of more pictures from the race:
Marco and Ed, you and your huge crowd of supporting volunteers did an outstanding job with your marathon and I am grateful for the opportunity you gave me in starting and running your beautiful race. It was cold, but who cares. Next time I guess there will be more shorts to be seen on the route 🙂 Thank you for your great hospitality!
And you, dear reader, if you ever have the chance to take part in the Two Rivers marathon, please do it. It's absoulutely worth it – you even get "Two Rivers Beer" after the race – a bonus not even the Two Oceans can provide 🙂