After my decision of not running Comrades this year due to the cold I suffered from 2 weeks before the race, I was overwhelmed by the positive reactions from runners and non-runners alike.
I also did not expect to hear so many stories from athletes who did non listen to their bodies and paid a very high price for that, ranging from being stopped during Comrades and taken into hospital, developing a Costocondritis and not being able to exercise for 18 months after the incident, or a 30 year old pushing himself to hard 3 weeks after a cold and loosing 90% of his heart function and getting a heart transplant. Well, no sport in the world is worth that price, I think.
Anyway, I felt relieved after the decision and was wondering, if I might still have a moment  with thoughts like "I feel better now, maybe I should have run". But this moment never came.
My wife and I traveled to Durban anyhow and turned it into a weekend for the two of us. We also used to opportunity to get away from the Comrades routine and got to experience more of Durban, especially it's food scene. And boy did we enjoy it.
You'll find a lot of pictures in this post and I hope you like them.
I can only reinforce my recommendation to every runner, no matter what age, not to run if you had a cold or flu 3 weeks or less before a race like Comrades.
Expo
I went to the expo to collect my goody bags from the Comrades Marathon and from Pink Drive, the charity organisation I am running for since 2014. It was so relaxing to walk along, see many nervous faces and meet some friends.
This year there was a massive number of novices amongst the 18,000 runners who eventually lined up at the starting line. I still remember the day when I ran my first Comrades Marathon in 2010.
We also met our friend, club mate and outstanding, always smiling running legend Kerry-Ann Marshall. She won several trail races in 2014 and 2015, became 6th at the 2016 Old Mutual Two Oceans Marathon (56 km) and ended up finishing also 6th at the 2016 Comrades Marathon. Of course that was not clear when we met her 🙂 She worked extremely hard during the year and was focused all the time on getting a gold medal – which is given to the first 10 male and female runners.
Not running means not thinking too much about food, weight gain or alcohol. So we discovered – for the first time in 6 years – the buzzing scene of Florida road and had a great time at Spiga, enjoying excellent Pasta and Pizza.
Saturday – the day before race day
Usually the day before the race is just a 3 km easy jog for me along the Durban promenade. This year I could join my wife for a lovely 10 km morning run.
We bumped into a couple of hundred Park Run runners and Comrades participants. This year it was not as busy as last year, since the start is in Pietermaritzburg and not in Durban. Therefore many runners stayed in or close to Pietermaritzburg instead of Durban.
Meeting my blog readers
After the morning run we went to the hotel restaurant to have breakfast. I was standing in line to get seated, when two people approached me with a friendly "Hello Axel". I looked at them and had no clue who they were.
They noticed that and they knew that I could not know them, so they continued "you don't know us, but we are avid readers of your blog! We did not expect to see you here due to your decision not to run. We are Jürgen and Gail from Australia."
I was absolutely speechless. And very grateful. As I have written in another post, writing this blog is a personal thing and it's quite lonely. Knowing that you enjoy reading it and even hearing from people from around the world that they follow my writing, makes all the hours of writing worth it.
Therefore, Jürgen and Gail, thank you again for approaching me and saying hello. It was a pleasure meeting you and now I have two more faces in mind when I write my posts. Congrats Jürgen to finishing your Comrades!
Race day
Of course my alarm was set for 5:15 am in the morning, just early enough to brew a cup of coffee and watch the start of the race. At that time all the runners were awake already for at least 3 hours 😉
And even now I did not feel that I would be missing anything.
After watching the start, my wife and I went to the hotel gym, watching the race while working out. After that we had plenty time to enjoy our breakfast in a quite empty hotel restaurant while watching the race on my iPad 🙂
We definitely wanted to see both the male and female winners of the race. The record was 5 hours and 20 minutes, which meant a finish at around 10:50 am was to be expected.
We went to the stadium at 10:30 am and it was almost completely empty. So we first said hello to the parents of our club administrator, the lovely Robsons, who manned again the gazebo of our club.
As mentioned, the stadium is quite empty at that stage of the race.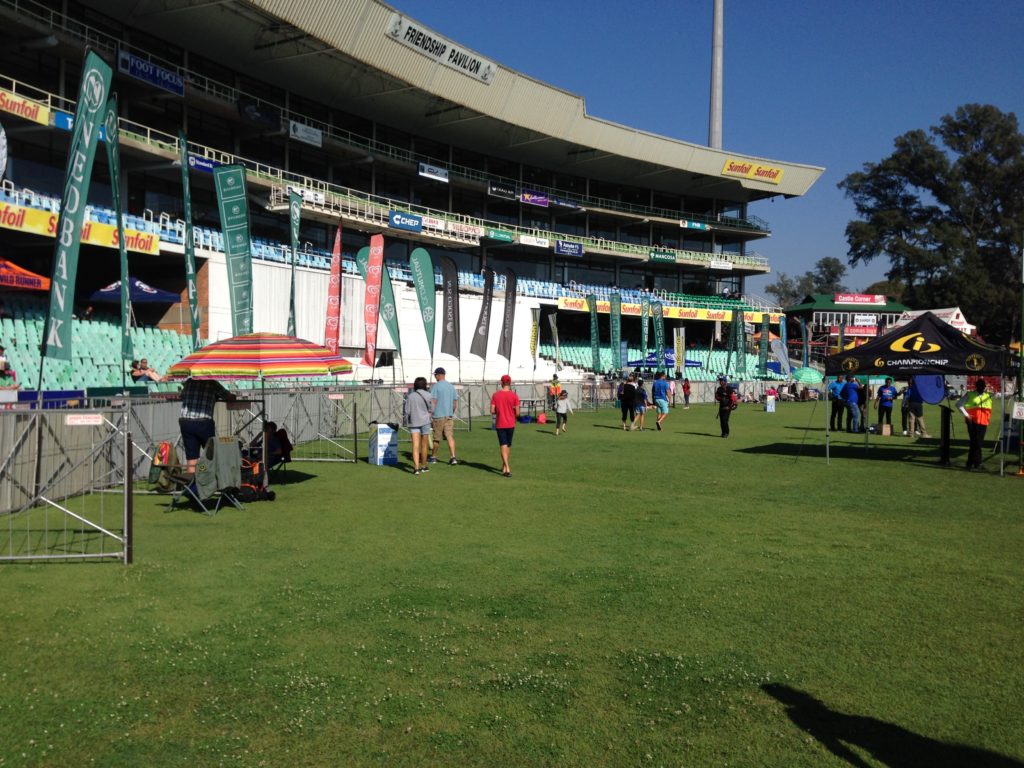 We managed to find a great spot where we could see the runners come in and make their last turn onto the finish straight.
And then he came: The new record holder for the down run, David Gatebe from South Africa. The stadium was buzzing and I had goosebumps when they played Chariots of Fire.
In the meantime there were a few more people, making noise like 10,000 🙂
David Gatebe broke the record by more than two minutes and still had the energy to do some push ups at the finish, you can see it in the video. Amazing!
Link to the video of the winner of the 2016 Comrades Marathon
The runner up was Ludwick Mamabolo, also from South Africa, who celebrated the winner with a dance at the finish, watch…
Ludwick Mamabolo 2016 Comrades Finish 2nd Place Runner up
And then the next runners earning their gold medals came in. Now we waited for the female winners. Everybody expected last years winner of both Comrades and Two Oceans and the winner of the 2016 Two Oceans Marathon, South African running superstar Caroline Wöstmann to win. At about 70 km she had a lead of about 10 minutes.
Unfortunately we could not see the big screen in the stadium from where we waited and the commentary in the stadium was really bad. This guy only commentated every now and then and therefore we had only little knowledge of the drama which unfolded.
Caroline Wöstmann did not only start suffering from severe cramps, she was also hit by a motorbike during the race. We could only tell from the reactions of people who could see the screen that something severe must have happened.
Eventually we heard that Charné Bosman, the runner up of the 2015 Comrades, caught up with Caroline and took over the lead.
The stadium got crazy when Charné Bosman entered and claimed the title of the 2016 Comrades Marathon.
Charné Bosman Female Winner of the 2016 Comrades Marathon – Down Run
And 5 minutes later everyone in the stadium got goosebumps, when Caroline Wöstmann entered – walking.
The cheering spectators eventually gave her some energy to start jogging again and finish second. What a privilege being able to see this live!
Caroline Wostman 2016 Comrades Marathon Dramatic Finish
Now we were waiting desperately for our friend Kerry-Ann Marshall – and there she was, finishing strong in 6th place, realizing her childhood dream of receiving a rose at Comrades (the first 10 men and women get a rose when they enter the stadium). Kerry-Ann, you are a real champion, always smiling and you really deserve your gold medal. And you can tell if someone is a true champion by his or her behavior to our mere mortals. Hours after completing the race and exhausted she came to our club gazebo to say hello to us.
The next hours
The hours after seeing the winners were quite exciting to watch and I had the chance to see our friend Marco von Leeuwen and many club mates from our running club Atlantic Athletic Club finish.
I recommend to every Comrades runner to once watch the race at the stadium once instead of running the race. It's such a different perspective and if you ran the race before, you watch the fellow runners with empathy – and some relieve not being that exhausted after race day 🙂
I am happy that I made the decision not to run the race and I hope that maybe one day another runner follows my example and avoids being severely impacted by running with a flu and lives to run another race instead of leaving his life during the race.
I'll be back
Of course I'll be back for more Comrades races and medals if my health and body allows.
Congratulations to all runners of the 2016 Comrades Marathon and thank you for reading my blog. If you like it, please send me a quick note and feel free to share my story.