Today was my MRI appointment at Mediclinic Stellenbosch. I have to say: Very lovely people there, very friendly and nice staff!
I have never been close to an MRI, nor been inside one of those tubes.
First I had to dress a bit fancy 😉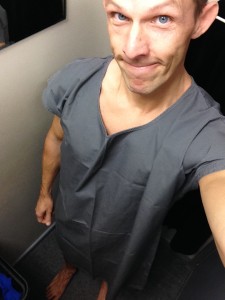 The examination started with some X-Rays of my left leg. You can see the pictures here.
I have not heard back from my sports physician and so far I interpreted what I did see… And on those X-Rays I can't see anything of concern. This would mean, that I am not suffering from a stress fracture. Which would be a good first result!
Getting an X-Ray is not really spectacular. But the interesting part was about to come.
We went to the next room, where the huge monster was waiting 🙂
I did not know what to expect. But I was happy to see only a part of my body go inside the machine. If I imagine getting a brain MRI, you need really strong nerves.
And no claustrophobia!
I asked if they would play music, since the machine was labeled "Symphonic – Maestro". They said the machine won't, but they can give me headphones and play some music. I'm glad I chose that option instead of the earplugs.
I would have loved to take my own music with me, but you must not bring any metallic stuff inside the room whatsoever.
I laid down, they slided my in, some music was played. It was the old Julio Iglesias with his best love songs. Well, not really my style of music, but actually it was very relaxing. And that was good!
When the machine starts working, relaxing is not your first thought. You do not really feel anything happening, but the noise is unbelieveable. And it starts all of a sudden and it ends all of a sudden.
Later they told me, that the machine sends sonic waves through the body and that's what creates the different noises you hear. Well, I don't need to understand how it works, but it was definitely loud in there.
About 8 love songs and 20 minutes later I was done.
The ladies were very friendly and immediately showed me some pictures and burned a DVD for me. On the screen we could see the difference between the healthy right leg and the injured left leg. Unfortunately they were not allowed to tell me what it means, and therefore I am still waiting for a result and the interpretation my doctor has.
So far I can say, that I am happy I went there, because there is something wrong.
I hope I went early enough and we find a therapy which helps for a speedy recovery and I can participate in Comrades on June 1st.
Those are two of the many MRI pictures where you can see a difference: The white area on the front side of my left leg (which is the upper side on the picture)…
When we were done and I paid quite some money for the examination, my wife and I made the best out of it.
We already drove to one of the best wine regions in the world with beautiful wineries and restaurants. Why not use this opportunity for a nice lunch…
And so we did 🙂
It's Friday evening and I have no idea as of when I will hear from my doctor.
What I will do is go cycling over the weekend and watch the world class triathletes competing at the Cape Town Ironman 🙂
Update: read more about the MRI results…